Party, Prom, or Wedding Hair in Bognor Regis
Give Judy at Top Cuts Hairdressing a shout!
Specialised and Personalised Hairstyling for your Wedding, Party, or Prom in Bognor Regis.
Having over 30 years experience in all aspects of hairdressing, and over 18 years specialising in dressing out long hair, Judy at Top Cuts Hairdressing caters for all styles of putting hair up, wedding hair design, and party styles for long and short hair.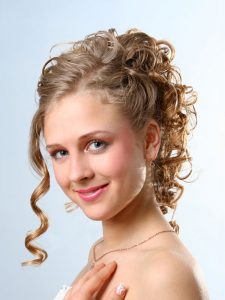 Wedding Hair
Everything is aimed to create the perfect look for your special day. you might achieve that look by using fresh or silk flowers, a tiara, or any hair ornaments you may choose to keep with the theme of your wedding. Judy can help create the perfect style you need.
Wedding Hair Design is a specialist art which can take time to achieve.
Practice sessions are vital before your wedding so Judy can create the perfect style for your special day.
All professional products used are of the highest quality, with several different ranges available for the best hold, whatever the hair type.
Wedding Hair Pricing
A full and accurate quote will be available after the first practice session once style and degree of work involved has been established.
Practice sessions will be in Top Cuts Hairdressing salon
A 25% deposit will be required when booking and is fully refundable up to 2 weeks before your wedding day
For more information please contact JUDY at Top Cuts Hairdressing (01243) 867544 or email: judy@topcuts.co.uk